Puebla and Cholula Private Tour from Mexico City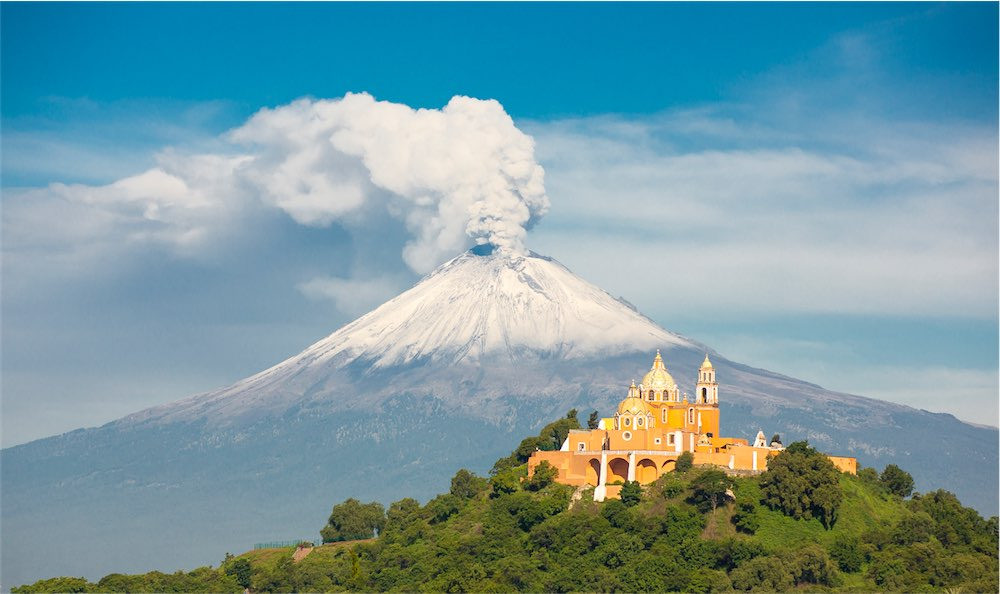 Duration: 12 Hours
Location: Mexico: Cholula, Puebla
Overview
Join our private tour from Mexico City to discover the rich cultural heritage of two beautiful cities: Cholula and Puebla. Cholula is the oldest settlement in the Americas inhabited uninterruptedly since its origins, since the Pre-Hispanic times. It's also famous for its world's largest pyramid (by volume) topped by the Virgen de Los Remedios church. Puebla, in its turn, retains a fantastically well-preserved UNESCO-listed historic center, a stunning cathedral, and a wealth of beautiful colonial buildings.
Highlights
Learn about the pre-Hispanic and colonial history of the area from your guide.
Climb and enjoy a panoramic view from the largest pyramid in the world in Cholula.
Admire the well-preserved colonial architecture of Puebla.
Get acquainted with the unique UNESCO-listed Talavera pottery tradition.
Try some of the most iconic dishes of nationwide-famous Pueblan cuisine.
Itinerary
In the morning, meet your guide and head to Cholula observing the proud beauty of Popocatepetl and Iztaccihuatl volcanoes on your way. Upon arrival, discover the town's colonial streets, Baroque churches, and impressive pyramid topped by the Virgen de Los Remedios church. Then, transfer to nearby Puebla to explore its marvelous UNESCO-listed historic center.
During the tour, see a number of lovely colonial buildings dating back to the 16th century with charming details and colorful tiles. Also, be ready to discover renowned Pueblan cuisine by trying some of the region's most famous dishes. Besides, we will be able to visit Puebla's handicraft markets where you can get unique regional souvenirs and sample traditional poblano candies. After a full day of discoveries, return to our vehicle and relax on the way back to Mexico City.
Why Join Us
Spend the time of the tour purely on activities and sightseeing: no visits to souvenir shops and restaurants (unless you ask).
An ideal choice for small groups: the price of the tour is fixed and varies just slightly depending on the size of the group.
We are flexible: adjust the program and route to your interests while the duration of the tour can be extended for an extra fee.
Logistics
DEPARTURE TIME AND LOCATION: Default departure times (which you can see when choosing a tour date) can be adjusted upon your request. Our guide will meet you up at the requested time and location and might need to contact you by phone. Therefore, please kindly provide a valid phone number during your booking.
TRANSPORT: Complimentary pick-up/drop-off is included: please indicate the exact time and location for your pick-up during your booking (e.g. in the "Special Requirements" field). That is to say, we can pick you up from those parts of Mexico City: Polanco, Condesa, Roma, or Centro Historico. Other more remote locations might involve an extra fee.
TOUR DURATION AND CUSTOMIZATION: The standard duration of the tour counts from the moment of a meetup till the end of the tour. On the other hand, the tour is customizable which means we can adjust the time you spend at each destination. For example, if you want to visit an extra location (attraction/restaurant/market, etc.), you can do it on a complimentary basis if this visit (1) fits the default duration of the tour and (2) doesn't involve a major change of the route.
WHAT TO TAKE WITH YOU: Comfortable clothes and shoes; hat/cap, sunglasses, and sunscreen; personal travel insurance; good mood and curiosity.
LANGUAGES: All our tours are led by local bilingual (at least Spanish and English) guides. Some of them fluently speak other languages (e.g. French, German, Italian, Mandarin, etc.) but those might depend on availability and cannot be fully guaranteed. If you want to have your tour in a language other than Spanish or English, please kindly inquire in advance.
Notes
The type of vehicle depends on the size of your group and may include a car, 7-seater, or minivan.
This is a private tour: only your group will participate.
Travelers should have a basic physical fitness condition.