LA PLAZA DE CULTURA Y ARTES CULINARY TRIP TO MEXICO CITY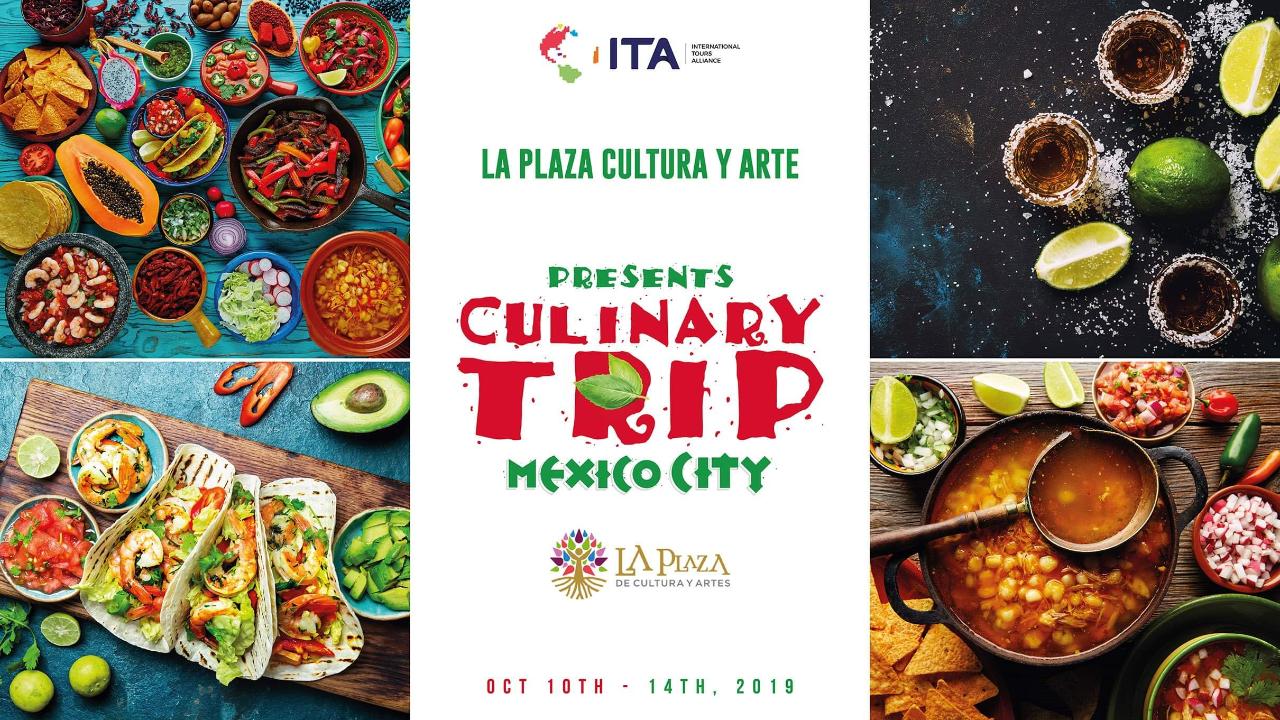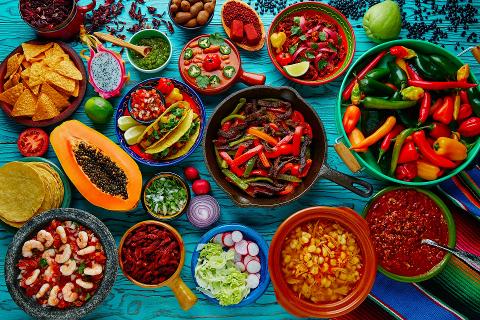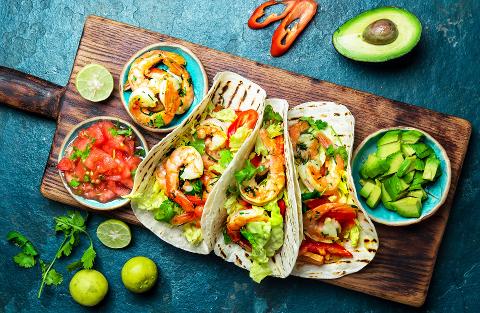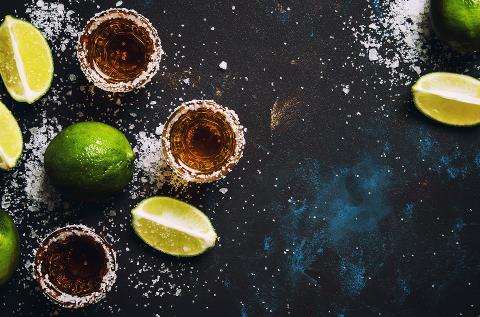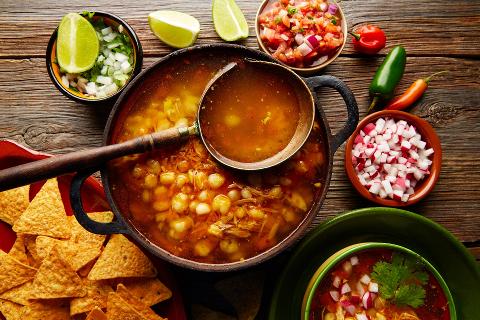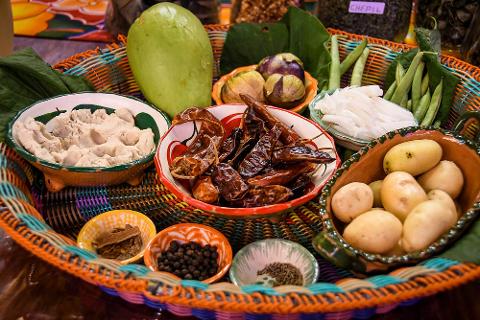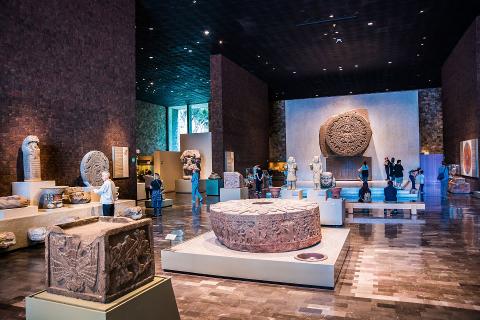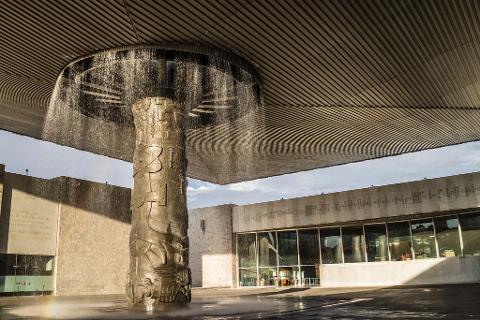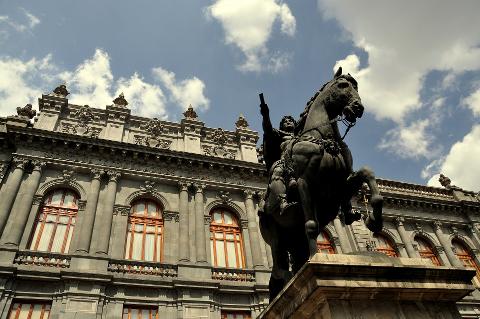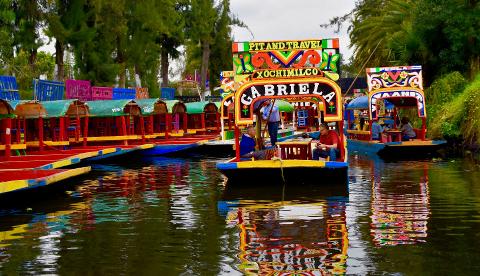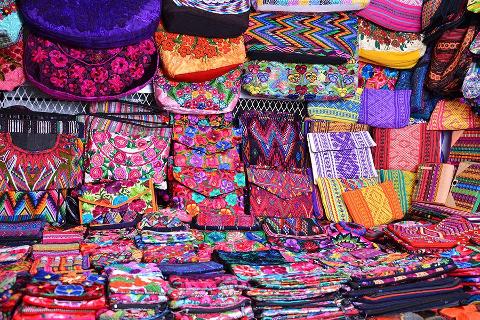 Mexico Culinary Tour w/
La Plaza de Cultura y Artes
OCTOBER 10th - 14th, 2019
Welcome to Mexico City! Get ready for an amazing trip that revolves around traditional and infusions of Mexican Cuisine visiting some of the most incredible restaurants in the country and some of the TOP 50 Restaurants in the world. Every moment has been orchestrated for you to live the most authentic expression of Mexican culture, through music, history, food and the essence of its people.
WHAT IS INCLUDED?
1. Airfare
Round trip LAX - Mexico City
2. Lodging * NH Hotels (Double occupancy)
Located in Centro Historico
3. Transportation
All private ground transportation for organized activities
4. Meals
Daily Breakfast

Three Lunches

Two Formal dinners (Maximo Bristrot & Pujol)

Taco Night
5. Activities
Personalized Market Tour with Chef

Authentic & Fun Cooking Class

Tacos After Dark - The best of Mexico city

Mixology (Tequila & Mezcal Tastings)

Xochimilco Food & Mariachi Experience

Visit Hacienda Dolores Olmedo

Walking tour of the Ciudadela - Artisans Market

Centro Historico walking tour
DAY 1 - OCT 10th: BIENVENIDO A MEXICO (D)
Welcome to Ciudad de México. Upon arrival, you will be shuttled to your Hotel located in the CENTRO HISTORICO, where the team will give you a briefing on the rest of the weekend. Enjoy your welcome cocktails and get ready for a night of delicious food at the Maximo Bristrot Restaurant, lead by Chef Eduardo Garcia.
DAY 2 - OCT 11th: MARKETS - MIXOLOGY - COOKING (B, L, D)
Buenos días señoras y señores, get ready for a day of Culinary Adventure with Chef Graciela. She will take you through the history of Mexican cuisine and some of the most incredible and colorful markets. Enjoy the markets of Mexico while learning the essence of the country as we select local herbs and spices followed by an Authentic Mexican Cooking Experience. For those who want to take a siesta, this may be the day. Enjoy a couple of hours back at the hotel and get ready for a night of fun. Taco Night and a night of fun at the local bars for special Mezcal & Tequila tastings.
Medellin Market
Enjoy one of the most special food markets (Mercado Medellin) in the colorful town of Roma Norte. Here you will experience Latin American infused flavors and learn about the market's history, organization, and the various exotic ingredients.
La Ciudadela Market
The Ciudadela Market is a traditional style Mexican market that specializes in the sale of Mexican handcrafts and folk art, located in the southwest corner of the historic center of Mexico City. Here you'll have the opportunity to shop for any and all ARTESANIAS MEXICANAS (Mexican handcrafts and folk art).
Authentic Mexican Cooking Experience
Learn how to prepare a complete four-course authentic Mexican menu, using the most flavorful and practical approaches of Mexican Gastronomy.
First course- Mexican appetizers with Mexican Salsas. Sopes are prepared and served on a molcajete with green and red salsa.

Second course- Prepare Mextlapiques tamales of prehistoric origins without masa, filled with a variety of vegetables, and aroma of a fresh mint salsa.

Third course- White Mole with chicken. A festive and ritual of a meal from the central region of Mexico. Traditionally cooked for the grandest occasion.

Fourth course- Aura Cornbread with drizzled hot Mexican chocolate.
Beverages
All tastings will be served with your choice of the following drinks

Agua fresca de guayaba

Cerveza Artisanal Mexicana

Mezcal de Oaxaca

Vino Mexicano del Valle de Parras
Taco Night

Over the course of the evening, we'll eat our way through Centro Histórico on a taco-centric crawl, exploring the capital's quintessential nighttime fare and after dark eateries that make Mexico City the world's unrivaled taco capital.
We'll hit 5 street food stops and pull up to the bar at a classic downtown cantina that is among the city's oldest for a round of beers + tequila
Since no visit to Mexico City would be complete without visiting a pulqueria, we drop by a charming spot to taste pulque, a fermented alcoholic beverage once reserved only for Aztec nobility. We'll end the night on a sugar high with a cajeta-stuffed churro fresh out of the oil.
DAY 3 - OCT 12th: EXPLORE MEXICO CITY & PUJOL RESTAURANT (B, L, D)
Experience the best of the Centro Historic on a guided tour of the city.
Centro Histórico (Historical Center) listed by UNESCO as a World Heritage Site

Palacio Nacional (National Palace) home to murals by famed painter Diego Rivera

Templo Mayor, a 13th-century Aztec temple

Catedral Metropolitana (Metropolitan Cathedral) a 16th-century colonial landmark.

Zócalo (Plaza de la Constitución)

Walk around the streets of Reforma Boulevard, Chapultepec Park

Museo de Nacional de Antropologia (National Anthropology Museum)
Lunch:
El Mayor Restaurant
Restaurant El Mayor is a proposal for high gastronomy in the heart of Mexico City Downtown. A multi proposal concept that includes terrace-deli, bar and restaurant with a view unique to the archaeological area of temple Mayor, the backs of the Metropolitan Cathedral, as well as majestic buildings of the Colonial and modern Mexico. The menu is based on classic Mexican food with a contemporary, where ingredients base of our Mexican gastronomic heritage are the main reason for the letter.

Dinner:
Pujol Restaurant
Tonight will be ultra-special as we visit the world-renown Pujol Restaurant, lead by famous Chef Enrique Olvera. You'll have the opportunity to taste the magical dishes that put Mexican cuisine on a world-class scale. Chef Olvera, draws ideas from everywhere, always reinterpreting and evolving. The key for him is always using his Mexican roots and the essence of the ingredients from his motherland. After dinner, the rest of the night is yours to enjoy.
DAY 4 - OCT 13th: XOCHIMILCO FLOATING BOATS & MARIACHI EXPERIENCE (B, L)
Wake up enjoy a delicious breakfast with a great Mexican Coffee. Today you'll visit the famous canals of Xochimilco, the last remnants of a vast water transport system built by the Aztecs. Xochimilco's floating gardens are the last vestige of Mexico's elaborate chinampas. You'll get to experience a true Mexican tradition. The afternoon will be to enjoy back at the hotel for a couple of hours of R&R. The rest of the night is yours to enjoy at your leisure.
Mexican Lunch
Enjoy a Frida Mexican style lunch during the trajinera ride.
Mexican Traditional Guacamole

Cactus Leaves Salad

Tostadas de Tinga (Chicken Tostadas)

Salpicón de Chicharron

Tortas de Bacalao

Corn bread

Mexican jelly's

Includes beverages: Agua Fresca, Mexican craft beer and artisanal mezcal.
Hacienda Dolores Olmedo
Located in Xochimilco, at Mexico City's southern extreme, the Dolores Olmedo Museum is housed in a rambling stone structure, originally dating from the Sixteenth Century, formerly known as the Hacienda La Noria.
By donating her art collection to the people of Mexico, Dolores Olmedo Patiño (1908-2002) created a cohesive whole, where treasures of the fine arts were incorporated into colonial construction added during the Seventeenth Century, surrounded by lush gardens, shaded by singularly Mexican plant species, and inhabited by gorgeous animals like the magical peacocks –seemingly confected of living jewels—and the enigmatic hairless Xoloiztcuintle dogs, a Precolumbian breed that is unique to behold and warm to the touch.
Mexico City Night Life - The night is your to enjoy the best of Mexico city. There are a variety of bars, restaurants to conclude this historic trip.
DAY 5 - OCT 14th: ADIOS (B)
Buenos Días, Today is your last day in Mexico City, enjoy your breakfast perhaps some last-minute shopping and head to the airport.
About the Chefs:
Enrique Olvera is a Mexican chef. He is the owner and head chef of Pujol, a Mexican haute cuisine restaurant in Mexico City, which is currently ranked 13th in the world according to the 2018 annual The World's 50 Best Restaurants listing.
Eduardo García is a Mexican chef and founder of Mexico City restaurants Máximo Bistrot and Lalo! He is often considered one of Mexico's top chefs. In December 2011 opened Máximo Bistrot in the Colonia Roma district of Mexico City, which has since become a magnet for the city's hottest new restaurants. Máximo has since won numerous awards.
Graciela Montaño is a Mexican Chef with sommelier and pairing studies, Graciela is the founder and owner of a México City cooking studio that focuses on teaching traditional Mexican dishes with a strong culinary history. Montaño is a certified sommelier and an expert tequila taster who promotes, through traditional dishes and street-popular classics, Méxicos´s culinary history.
Meals

As described in your itinerary
B -Breakfast
L - Lunch
D- Dinner
Beverages
As described in your itinerary
Alcohol - As described in your itinerary, usually part of a meal or activity
NOT INCLUDED:
Unlimited Alcohol
Gratuities
*Subject to change based on the number of participants
INTERNATIONAL TOURS ALLIANCE | ITAGLOBAL.COM| INSTAGRAM
OFFICE: 213-293-6422 | Direct: 626-290-5675 Email: Reservations@itaglobal.com